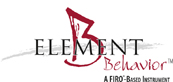 Improve teamwork through Inclusion, Control and Openness. The Element B Certification Course prepares you to administer the best assessment available for understanding team dynamics and for team development and teambuilding. You will learn how to interpret the Element B assessment, provide feedback on the results and use Element B in a variety of applications such as leader development and coaching, teambuilding, leader selection and much more.

We can accommodate your schedule. Contact HPS to schedule a customized certification session to meet your needs.

or call HPS at 706-769-5836.

Element B is an assessment of interpersonal behavior that provides feedback on three dimensions: Inclusion, Control and Openness. Understanding the dynamics of interpersonal behavior has tremendous value for many organizational and team applications, especially leadership development and teambuilding. To learn more, click here.

For over 35 years, High Performing Systems has used the FIRO family of assessments with thousands of participants and has been a leading provider of FIRO certification since the mid 1990s. HPS brings an innovative, live, online videoconferencing approach to certification while providing in-depth knowledge, experience and friendly service.
Live online videoconferencing Certification or in-house customization
No travel costs—sleep in your own bed!
Taught by a team* of Element B Certification experts
Dr. Dick Thompson, Lead Instructor
HPS is a leader in Element B research
Real-world experience and applications of Element B, including:

Use of Element B to create compatible work teams
Leadership assessment and feedback for development and coaching
Relationship of Element B to other assessments
Use of Element B in selection and success models
*Team Teaching Model:

HPS uses a team approach for conducting our Element B Certification courses. Classes are facilitated by a team of Element B experts, with fifty years of combined Element B experience, to offer a dynamic and interactive training model for our participants.
10.25 ICF CCEUs
Certification on Element B
Personal Element B feedback session and Report
Element B Presenter's Guide with PowerPoint and exercises for using Element B with leaders and teams
Numerous articles and handouts
One free administration of Element B
Membership in a large, growing international Element B network
Two 30-minute personal coaching sessions
Detailed Course Notebook
Relationship of Element B to EQ-i, MBTI®, teams, stress and leadership
Cutting-edge HPS research on Element B
HPS Alumni membership
Applications of Element B

HPS trainers share best practices, examples and case studies of how Element B can be used in various applications, including:

Teambuilding—Research shows that compatible teams perform better under stress than teams that are not compatible. Learn how to create compatible teams based on Element B, to achieve better results with less conflict.

Selection—Learn why just administering the Element B is not enough and how to use Element B as part of a comprehensive selection process, including the creation of success models and structured interview questions.

Leadership Development—Help leaders understand their interpersonal interaction style and how to enhance their probability of success when dealing with colleagues, direct reports and customers.

Coaching—Learn how to create a coaching plan based on Element B results, using feedback, development and Action Plans that work.

Use With Other Assessments—Find out how Element B can be used in combination with other assessment tools to create high-impact consulting and assessment solutions for clients.
Read more here.

Instructors
The lead instructor for this certification is Henry L. (Dick) Thompson, Ph.D., President and CEO of High Performing Systems, Inc., and author of numerous books and articles on FIRO-B/Element B™, Emotional Intelligence, MBTI, leadership and teams. Dr. Thompson currently collaborates with the Element B trademark owner and with the US distributor of Element B to host the US online Element B assessment site, develop new Element B materials and conduct research on Element B (expanded Bio).

The training team also includes Debra Cannarella.
(click here)


August 29, 2023
October 26, 2023
January 25, 2024
March 15, 2024
Price $995.00. Call HPS at 706-769-5836 to register or click here.

For a training calendar of all HPS course offerings, click here.

* To learn how live online videoconferencing works, click here.

HPS offers in-house Element B Certification - Call 706-769-5836 for pricing and details.
If you prefer in-person certification, contact us at 706-769-5836 or 800-535-8445 to discuss options for an in-house class at your location or about attendance at a class in Athens, GA.