Sign Up
To receive training schedules and updates from HPS. Click here.





An Application Tool for the MBTI Instrument.

SOG Codename Dynamite - the newest book by Henry L. (Dick) Thompson, Ph.D.
---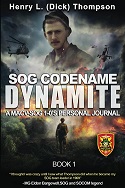 Step back in time to 1968. Experience war through the eyes of a young Airborne Ranger, Special Forces soldier leading vastly outnumbered teams as they evade and engage the enemy in hostile territory. SOG Codename Dynamite is about real life combat in the jungles of Southeast Asia working for an elite military group that did not exist – MACV-SOG. Read about how Dick Thompson led small teams against overwhelming odds and narrowly escaped with his life on numerous occasions. This is action/adventure with real lives on the line!
SOG Codename Dynamite have arrived. Signed copies available now!
For multiple copies or international shipping, please call 1-706-769-5836 or email info@hpsys.com.
Click here for additional SOG resources.